Another year comes to an end and here in blogworld, there are last rites to be performed. 2012 had its share of upheaval and joy: we bid adieu to the Richter Collective record label after four years, while Out On A Limb brought their A-game and ElevenEleven stepped up. Some excellent music was released this year, and while I wasn't posting as much, this list tells me that I didn't drop the ball and miss out. Autumn was particularly strong for new albums and the past few weeks have been a pleasure zone of new favourites.
Read on and click the images or links to be taken directly to the album streams.
20.Young Hunting – Ocho
19. Meeting Cavalry - Seti The First
18. Illosophical - Costello
17. Croupier – Croupier
16. What The World Knows – Laura Sheeran
15. In Binary Shrines – Defcon
14. twomilliondays – twomilliondays
13. Oh Cult! – Logikparty
12. Legion – Bantum
11. The Brutal Here And Now – The Spook of the Thirteenth Lock
10. Crowns – Ginnels (Popical Island)
There's a lo-fi subset of bands in the indie-pop realm of Ireland, many linked to Popical Island, that are doing a great job of deconstructing my kneejerk NME/Pitchfork association of the genre. Ginnels are at the top of that tree in 2012. I made a resolution to connect properly with this album after seeing them play live a couple of times, and despite a slew of other songs on releases too numerous to mention now, Crowns is the ideal starting point for newcomers. Angry pockets of exhalation are encapsulated in iridescent, swirling sheens of guitar, making this album feel like Mark Chester et al are gleefully farting bubbles in the general direction of bland bands who sully indie's good name.
Top track :: You Should Have Listened To Them
9. LD50 2 – Lethal Dialect (self-released)
Cabra's Paul Allwright in full flow is a sound to behold, curling a northside accent around topics that range from collusion and crime to coming up in a tough climate. Actively inspired by Nas with a flow to match, his real love lies in lyricism and there's not one shred of filler in these bars. Produced to incredibly high standard for a completely independent, grassroots endeavour, he's assisted along the delivery route by creative associates such as Costello, Willa Lee, Jambo, Tommy Hand, 4 Real and GI, who also laid down beats on many of the tracks. As an even better follow-up to an impressive debut, there's no denying Lethal Dialect's put rap back on the Dublin map.
Top track :: Dark Horse.
8. Sport – Simon Bird (self-released)
This list was drawn up at the end of November, and then Simon Bird announced his new album was dropping on 3 December. Cue a few weeks to sink my fangs into the debut album from this precocious talent in order to find out just where exactly Bird fits in to the grand scheme of independent Irish music. My conclusion is that, if his EPs introduced him as a gaunt figure beckoning a finger from the fringes of doom and noise, the album shows he's stepped out of the shadows and let a little light in, leveraging linear beats and samples into the mix as ear candy for those who need a little sugar to get going. There's something dark beating down here, and abiogenetic Sport is not like Irish electronic music as we know it: there's a real breath of life in these songs that confront mortality.
Top track :: Collapse, Star Lung
7. Dictionary Crimes – Mumblin Deaf Ro (Popical Island)
The musings of a man, husband, father, son, brother and person looking to make sense of circumstance in order to do right by those around him. Despite best intentions to take the lyrics to task, I found this album far too personal to deconstruct, and didn't want to anyway. It's delicately arranged on guitar, with Ronan Hession's sometimes indistinct voice a soft embrace that wraps around devastatingly gentle lyrics.
Top track :: Cade Calf Call

6. Take Courage – Jogging (Out On A Limb)
In the interim between writing 2010′s Minutes and Take Courage, Jogging ramped it up an extra notch, gelling a sound that made one of this year's best experiences of full-album listening. While the debut was a heavy creature in its own right, the trio really gunned their collective engines on this one, pushing each instrument to the max. With Peter Lee's formidable wallops on the drums, Ronan Jackson and Darren Craig's stabbing vocals set against the undertow of bass and wiry agility of guitar, there are so many memorable moments on this record, burning their way into the brain to be recalled with antecedent pleasure.
Top track :: Every Bristle A Bayonet.
5. Cover & Flood – Katie Kim (Flaming June)
Spacious and warm, I got a strong 'on my own but not alone' sensation of companionship each time I listened to Katie Kim's Cover & Flood this year. Released on double vinyl and digital, it was the kind of album I could play to keep a clear, quiet mind for long periods of time without having to think much about what was going on, and so the interesting aspects of manipulated instruments and vocals would float through my ears, tipping me back to reality with each new track before drifting out again.
Top track :: Your Mountains

4. Citizens – Owensie (Out On A Limb)
Another steady listen since its release in autumn, Owensie's second album heard the guitarist flesh out the fingerpicked bones of the first. It's not correct however, to call the additional instrumentation and accompaniment an evolution of his music, for it's really just a fork that loops back into the main road of what Owensie offers. These are an empath's songs that aim to console the hurt of people we may never meet but probably know all too well.
Top track :: Circle of Lies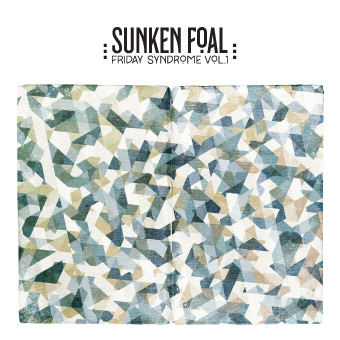 3. Friday Syndrome Vol.1 – Sunken Foal (Countersunk)
I took four months off the blog to work on a book over the summer, and that creative process was aided in a large way by Sunken Foal's weekend project of sounds that seemed analogous to my state of mind, bursting with ideas and textures. An album that could also be taken out for a walk, or played discreetly in the background while relaxing with friends, its versatility kept me coming back, time and again, earning Dunk Murphy the standing, to my mind, of best producer in Ireland this year.
Top track :: The Woods
2. I Am Not The Crow – Windings (Out On A Limb)
Windings were a huge hit with me in 2012. While I had a good opinion of this Limerick band previously, the album's release wasn't really something I had any strong feelings for, which meant I was taken completely by surprise when I Am Not The Crow landed on my head in October and refused to budge for the rest of the year. Two halves span a glut of sound from stadium rock to solicitous folk: it's a rosy apple full of earworms.
Top track :: Cleaner
1. The Sleep Of Reason – BATS (Richter Collective)
From the creeping excitement as the release date drew near, to the exultation I felt when BATS delivered everything I hoped for and more in this second album, The Sleep Of Reason was played hard and won big.
The last, and best, release on the Richter Collective, two songs had been heard in fitful glimpses at live shows: Wolfwrangler and Creatures Collecting. Everything else was fresh. A lot of the time, bands road test their new material as they go along, playing a new song here or there which can mean an album is already a bit tired as soon as it's released but The Sleep Of Reason was kept carefully under wraps. So keen to adapt and evolve, BATS would sooner die than go backwards and there's no repetition, no recycling. There's no shortage of new things to sing about and they're armed with a fresh set of time signatures and riffs to slough off the dead skin that collected in the long time since 2009′s debut. Technically, it's better on every count, better production, better vocals, better for having had to wait an entire three years without any stopgap releases in the interim. Heavier and harder than before, they're hotting up.
I find my bearings in the universe by this band. It doesn't matter that they're Irish because any band in the world making these songs would go straight to the core of what I'm about. But no others come close to what BATS do.
The power of words is employed to the fullest extent, to intrigue, inform and inspire. As depopularisers of psuedoscience, Astronomy, Astrology's opening lines are a nod to the Harmony Of The Worlds episode of Carl Sagan's Cosmos in which the planets' alignment in connection with a birth is rubbished with a quip about the obstetrician's gravity being far more powerful than Mars'. Hey, the world does not revolve around you, kid they go on to say without a trace of regret, reasoning that We did well to detect that we're dust. Denigraters of superstition, their fury in The Sleep Of Reason… is clear and unclouded. Again with the riveting openers, they begin, Grabbing a child at an age when the mind is helpless at best/is the time when the seed is sown, leading up to the trenchant bridge railing against spiritual terrorism: Be a slave or you'll burn in the furnace. As ambassadors of knowledge, in Heat Death entropy is explained by way of beautifully-ordered stanzas that crumble and decay into disorder. All in, I think my favourite line comes from Creatures Collecting: Many plates rise in the mix of the fixer/spectral light gaze at a hint of a whisper as the cadence of these sentences holds a certain idiosyncratic rhythm – and that's before we even touch on the spectral wavelength that shows the leftover radiation from the big bang and the tint of distant galaxies accelerating away from us.
Even though they could exist as an excellent non-lyric band on the basis of the phenomenal music laid down (a blend of math rock and post-hardcore), it's not only the human voice that is treated as another instrument, but also the human brain. Their higher thought entreaties to us beautiful mammals is what augments the package to make this band such rapturously redoubtable debaters: fuck religion, lust for science. Make the most of life, soon enough we'll be food for our star.
Top Track :: The Sleep Of Reason Brings Forth Monsters.
Honorable mentions to the Strange Passion compilation which is mindblowingly good. And Adrian Crowley's new stuff from I Saw Three Birds Flying seems really excellent, and The Cast Of Cheers' Family. It bothers me, that I didn't manage to pick up copies of both those albums by now, but I'm still really solidly happy with the list above.
Well done again, Ireland. Check back for the best music videos of 2012.